*Free Shipping Included*
Regular price
$639.00 USD
Regular price
Sale price
$639.00 USD
Unit price
per
Sale
Sold out
What Is ChefPaw?
Say hello to ChefPaw, the countertop dog food maker that REVOLUTIONIZES how we feed our dogs. ChefPaw saves you time and money, creating unlimited fresh and tasty homemade food for your dog. Actual real food PERSONALIZED to their dietary needs and ChefPaw does it at a fraction of the cost of storebought fresh pet food. And it only takes 3 easy steps!

Just add fresh ingredients, turn ChefPaw on, and relax, you're already done! In 40 minutes, you'll have fresh dog food that's been gently mixed and cooked at lower temperatures for perfection. ChefPaw is for pet parents that want to give their dogs fresh food that tastes great while amplifying their health.
Meals rich with wholesome ingredients that retain all the nutrients only a fresh diet can offer.
Just food that's free from common fillers like gums or preservatives.
Fresh dog food that reduces the cost of feeding and caring for our best furbuddies.
That's the ChefPaw's Promise!
Share
View full details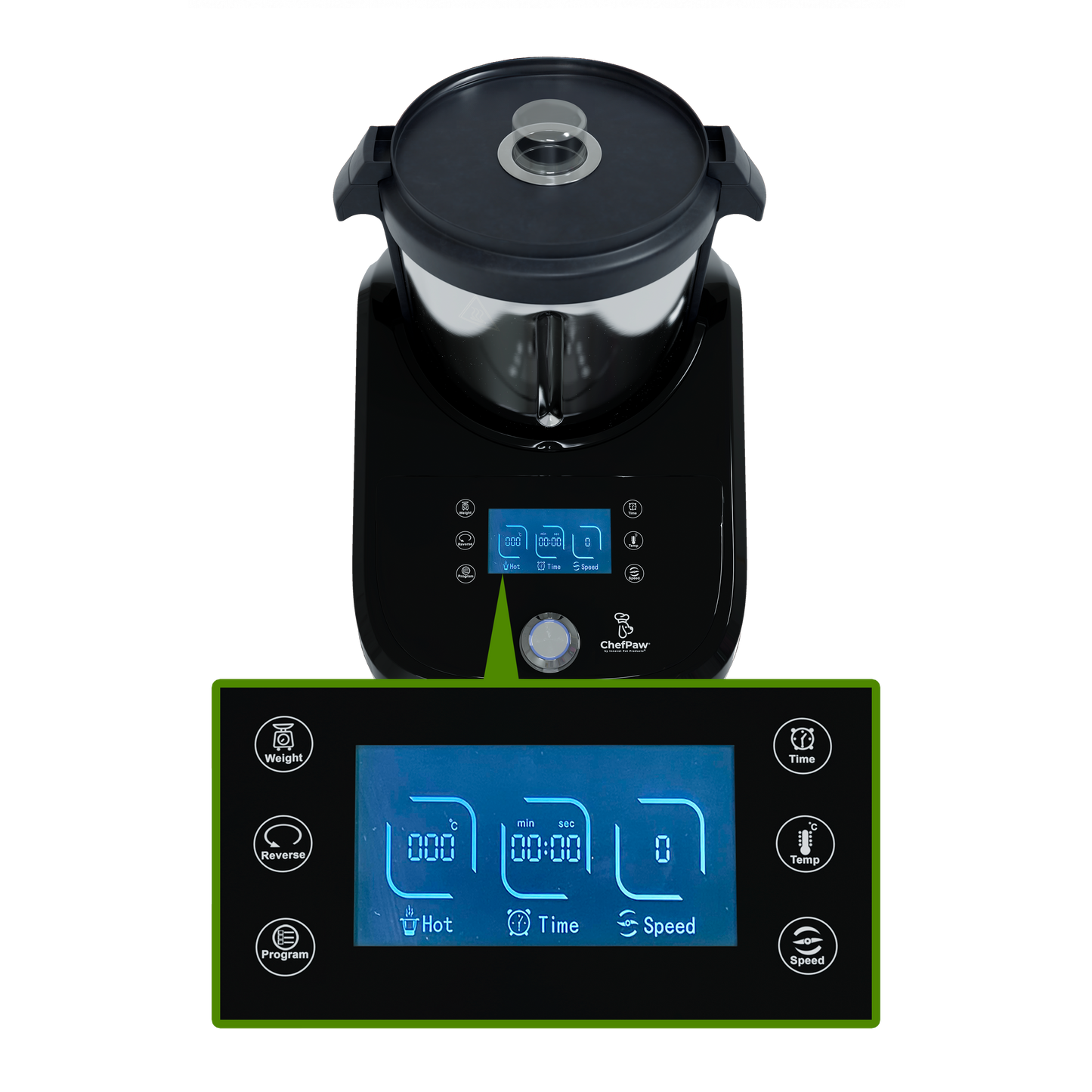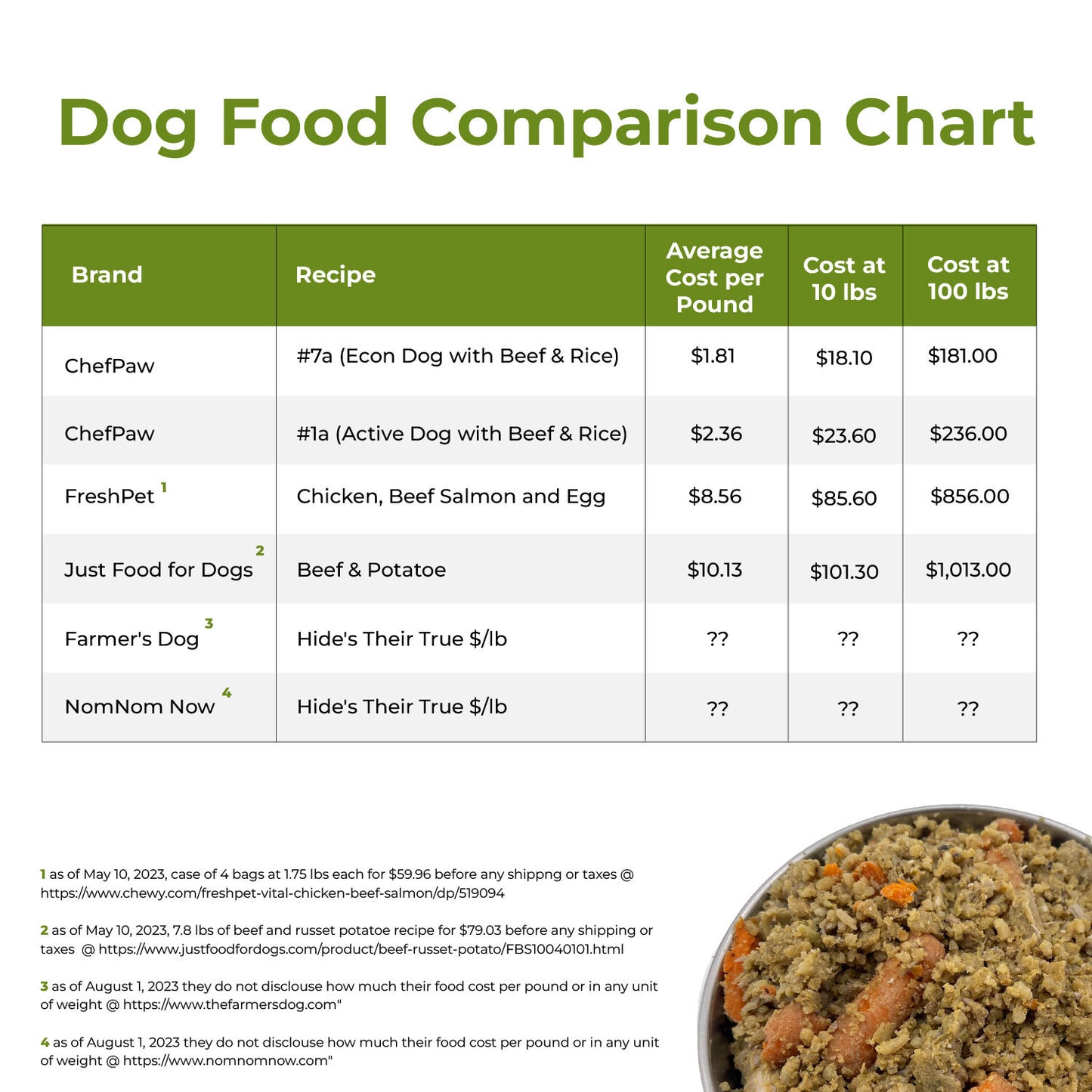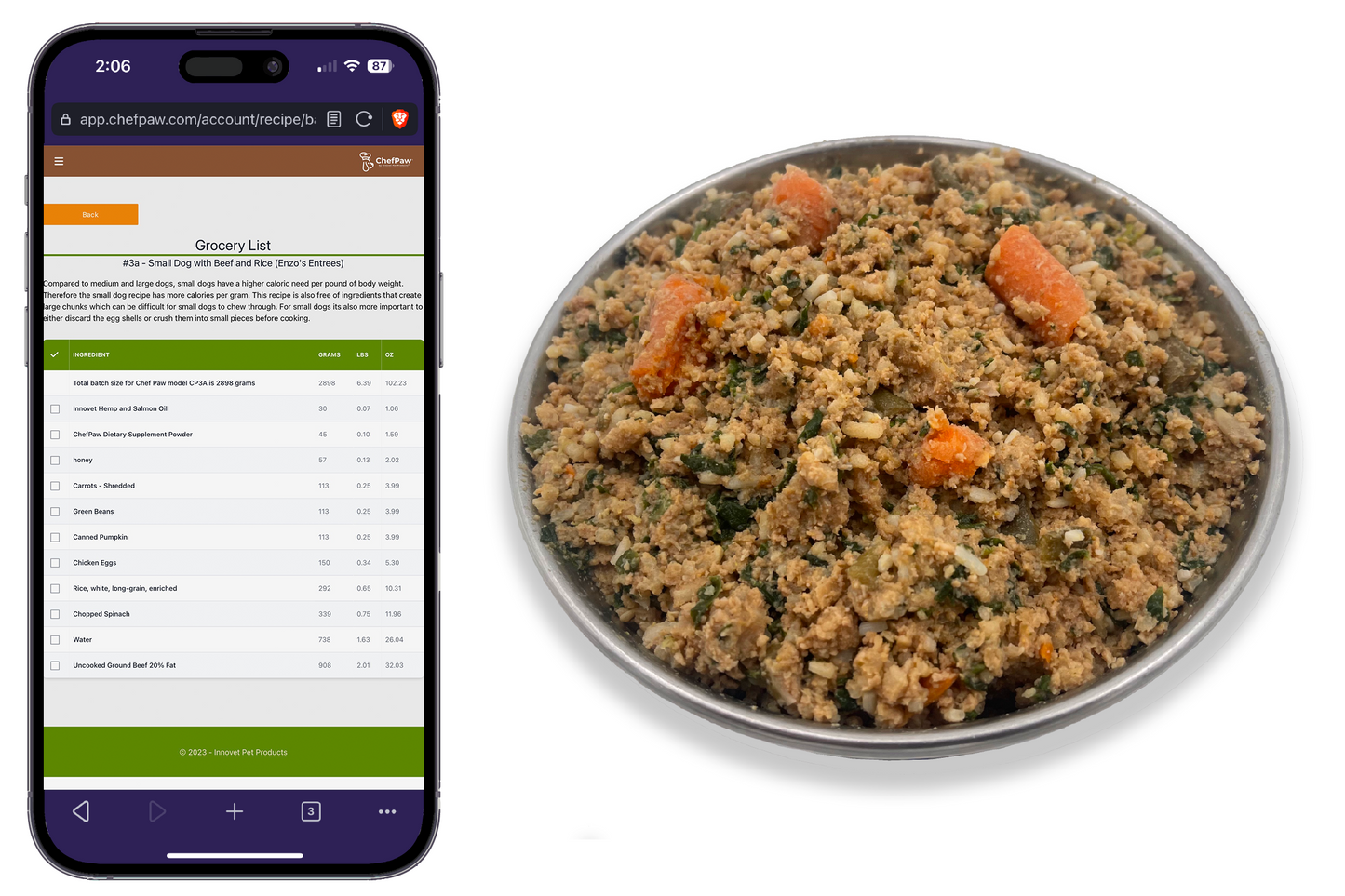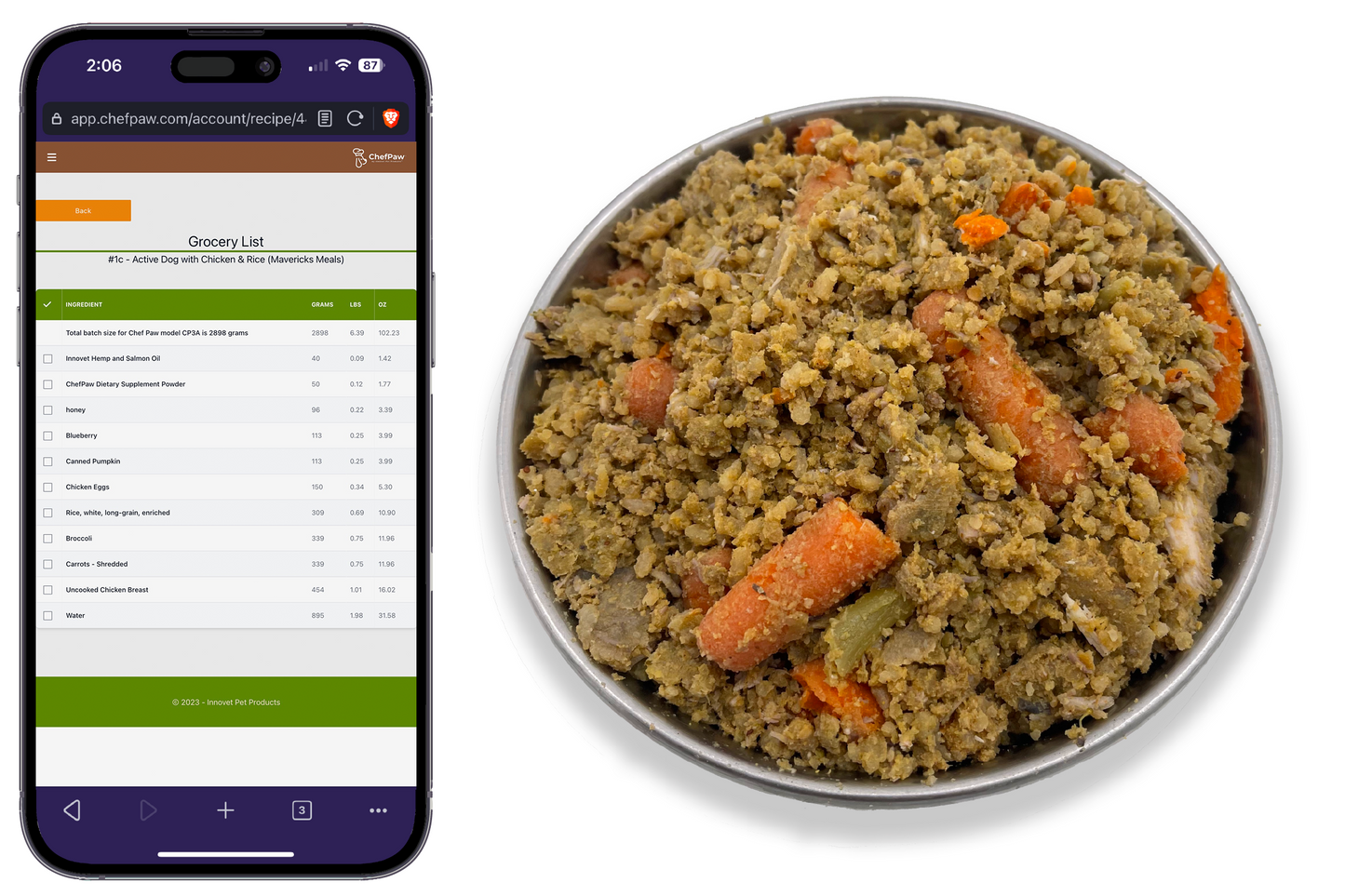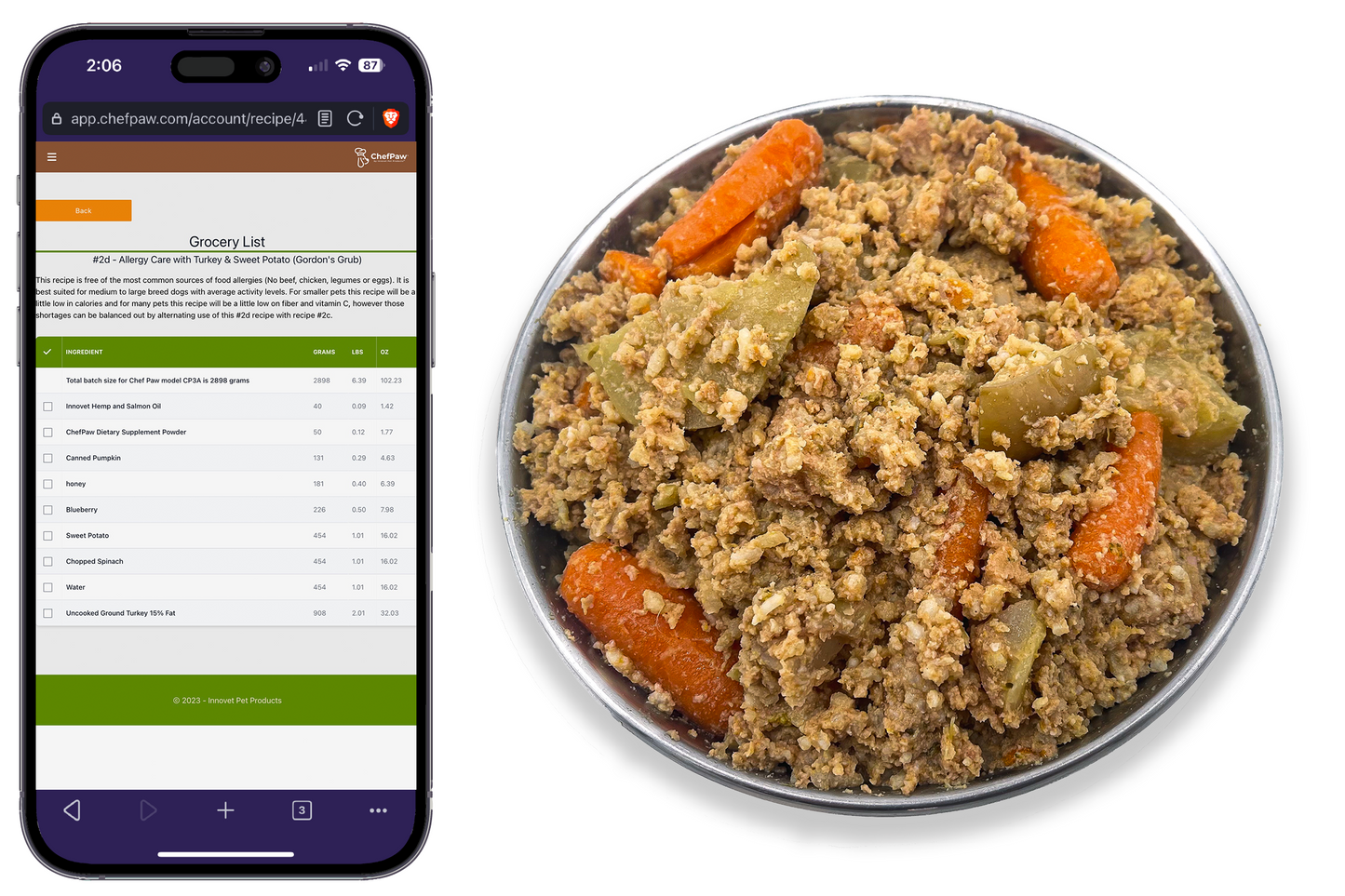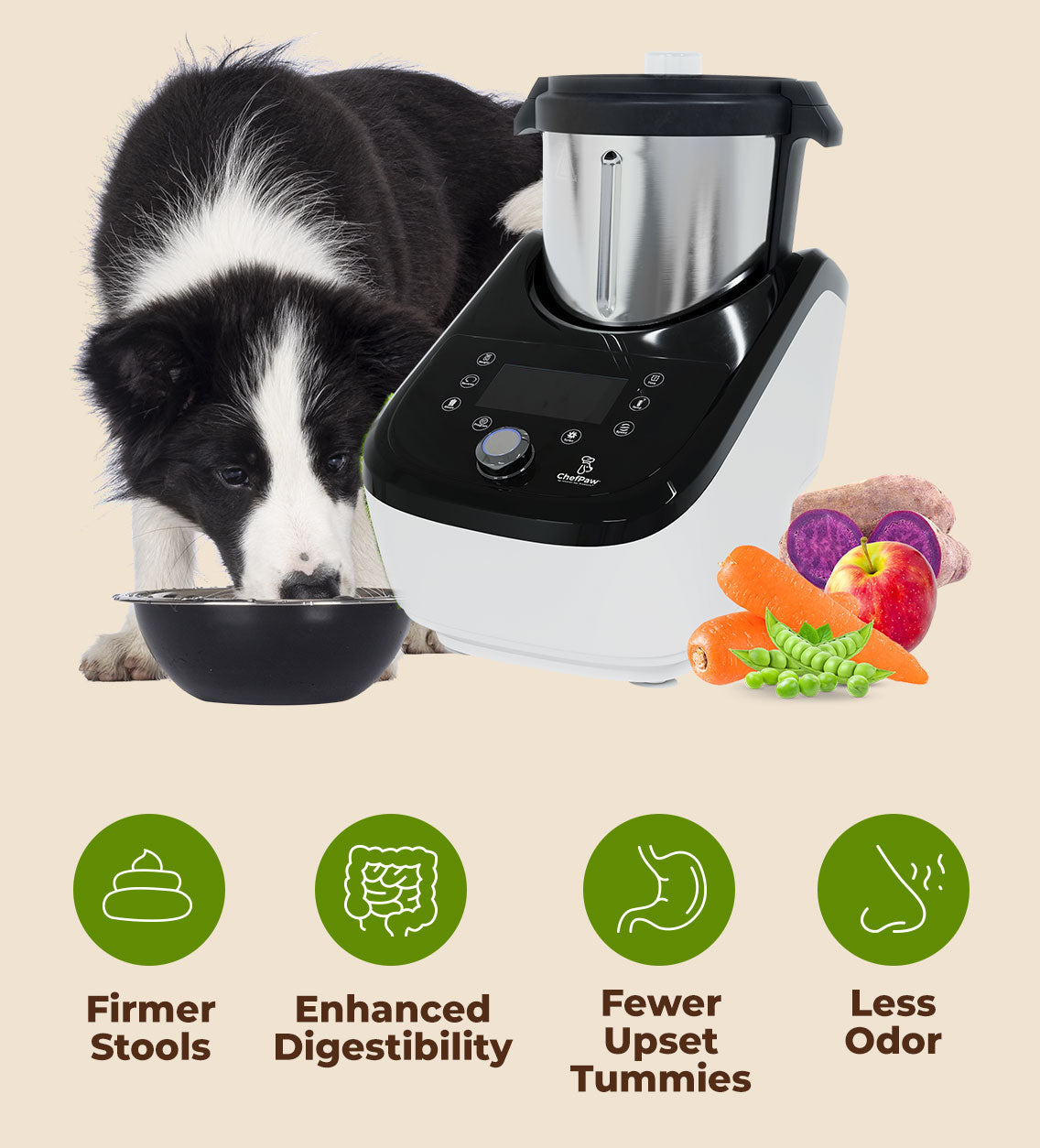 ChefPaw Advantages - A Fresh Food Diet Maximized Nutrition Saving Time + Money
No dog should have to eat the same pet food day-in-day-out! Alternating recipes on a daily basis is the simplest way to maximize nutrition and minimize the use of supplements. You shouldn't have to struggle to help your dog with their dietary issues, whether they are a picky eater or have food allergies. Fresh dog food should be affordable and poops should be easy to pickup.

Save Money
ChefPaw is designed to pay for itself! From giving your dog an optimal diet that supports a longer and healthier life to ChefPaw's nutrition analyzer that quickly compares ingredients, allowing you to swap out expensive ingredients for more affordable ones without jeopardizing nutrition.Say goodbye to commercial dog foods that are soaring in price. Goodbye to brands that do little to improve the quality of their food but are sure aggressive about finding places to cut corners. Stop paying for packaging, labeling, and product advertisement. With ChefPaw, your hard-earned money is only going towards giving your dog the best food possible. Create fresh food for as low as $1.81 per pound vs. $4-15 per pound store bought fresh pet food.

Save Time
Requiring only 9x12" of your kitchen counter space when in use, the ChefPaw's model CP3A is a self-contained single unit that eliminates hours of prepping and cleanup of pots, pans which leaves your kitchen a cluttered mess. Just add whole ingredients, turn ChefPaw on, and ChefPaw will do the rest of the work for you. Go enjoy your favorite TV show or have a nice REFRESHING bath. ChefPaw isn't just here to help your dog!

Maximize Nutrition and Flavor
Designed to maximize nutrition and flavor, ChefPaw makes commercial dog food a thing of the past. Commercial dog food that often fails to provide a complete well-balanced meal due to aggressive cooking temperatures.The exclusive ChefPaw app has nutritional values for 1000+ ingredients with the ability to analyze calories, protein, carbs, fiber, 5 types of fats, 20 amino acids + 32 vitamins and minerals.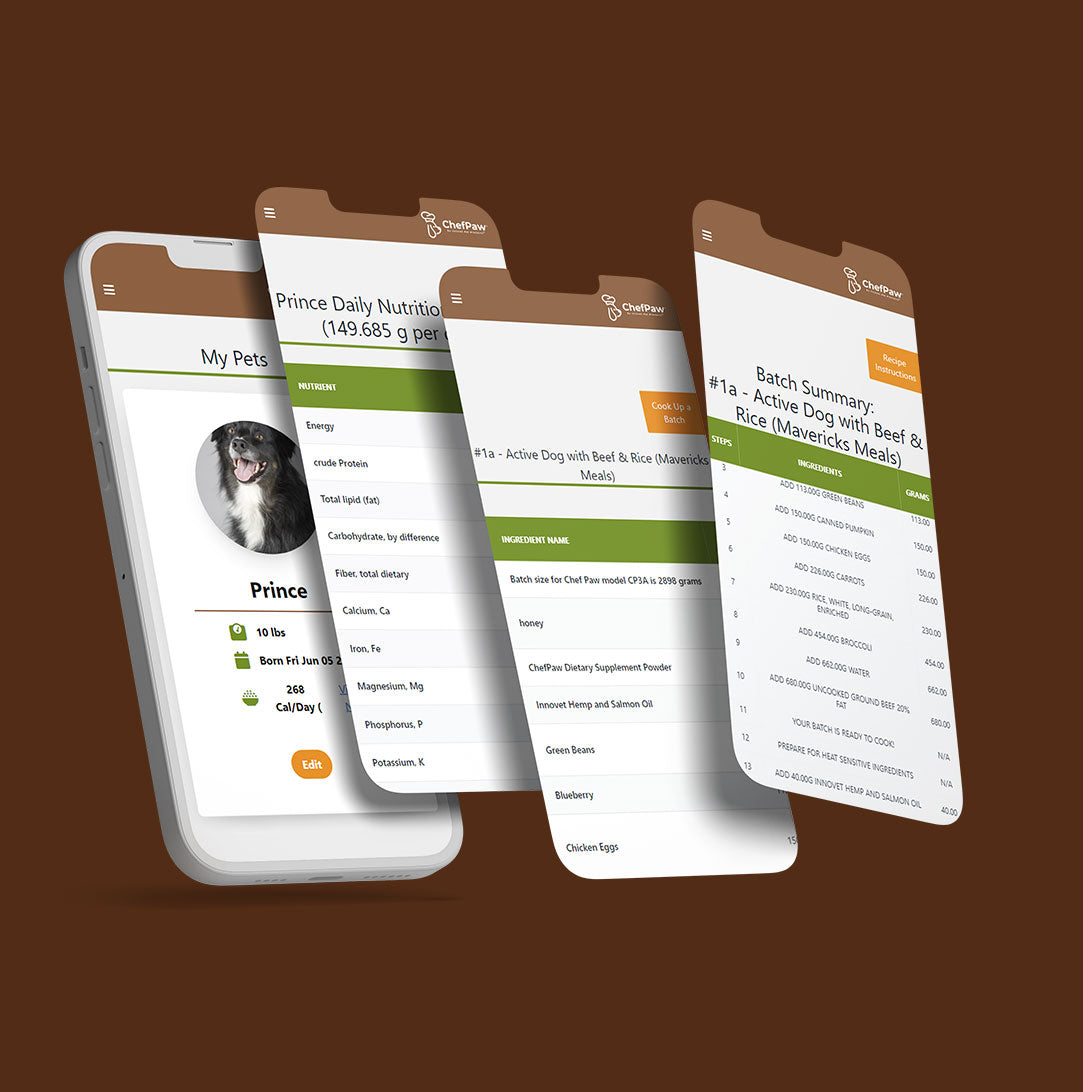 What Is The ChefPaw App?
Meet your new assistant that does all the hard work for you.

With the exclusive FREE ChefPaw App (value at $200) you're given: 

1 - Recipe options: Pre Programmed, From Scratch, and Vet Formulated

2 - Nutritional value for 1000+ ingredients all from the USDA database for foods

3 - Swap or add new ingredients manually for nutritional yield, update price values, and step-by-step guides for batching all your favorite recipes

4 - 5 individual pet profiles for storing each pet's favorite recipes and unique needs

5 - Exclusive access to ChefPaw's Shared Community Recipes - share questions, insights, and recipe ideas with other ChefPaw owners
ChefPaw Recipe Options
ChefPaw's app gives pet parents 3 recipe options.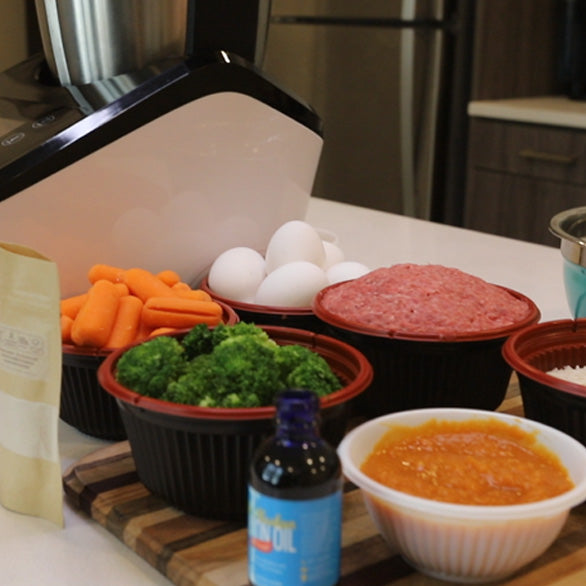 Our Recipes
Option 1 brings you a set of the most popular dog food recipes around. ChefPaw suggested recipes will easily cover the needs of nearly every dog and even goes a step further by automatically customizing the recipes for your dog's needs upon uploading their profile into the app.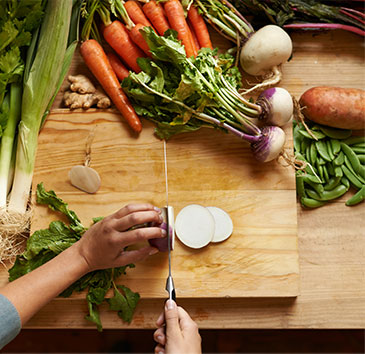 From Scratch
Option 2 gives you the ability to create your favorite budget-friendly recipes while connecting you to other ChefPaw owners for community-inspired recipes. With complete nutrient profiles for pretty much every dog-friendly ingredient around, ChefPaw avoids errors in nutrition that can come up when making your dog's food at home. The best thing about ChefPaw -- other than giving your dog tasty fresh food -- is you don't need to know anything about dog food or pet nutrition.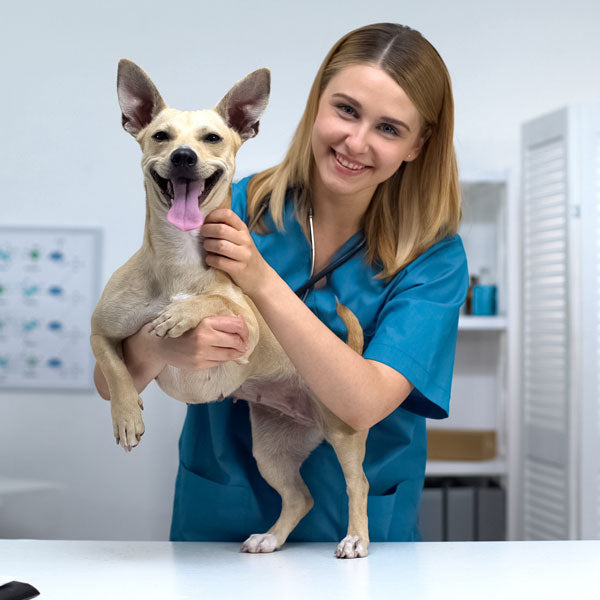 Consult an Expert
Option 3 connects you to a pet nutrition specialist, who works with you to put together high-quality meals designed to work perfectly for your dog's unique needs.  
FAQ
How fast will the ChefPaw Pay for itself?

Designed to pay for itself, ChefPaw gives your wallet the break it deserves. ChefPaw is here to help both your dog and you! This is why a multiple-dog household can see ChefPaw pay for itself in just 3-4 weeks. 
How much does ChefPaw cost?

We are introducing our flagship model that makes 6.4lbs (3L) of pet food in just 40 minutes for only $639.98 instead of its regular MSRP of $800.00. So make sure to grab it sooner rather than later if you're looking to save even more money! 
How does a DIY dog food maker work?

ChefPaw brings you delicious cooked food our dogs love in just 3 easy steps. 

Step 1: Use the ChefPaw app to quickly load in your dog's favorite recipe. Remember, the app lets you pick from three category recipes for endless options so your dog never has to eat the same meal day after day again — unless they want to!
Step 2: Load in the recipe's ingredients and turn ChefPaw on. 
Step 3: This one is personally our favorite. Just sit back and relax. 

Automatic mixing blades are strong enough for the toughest ingredients, from raw meats to tough vegetables, saving you time and energy on food prep.

With controls for temperature and time, you can quickly dial in ChefPaw to minimize the loss of nutrients. Something even the best commercial foods struggle to achieve.
What are the best ingredients to use with a dog food processor? 

From energy-boosting ingredients such as whole wheat macaroni, brown rice, and veggies like green beans to high-protein foods that dogs love such as turkey and beef, ChefPaw always works to bring out the best in your dog's favorite foods.

To get an idea of which ingredients work best for your dog and your budget, we've included several features in the ChefPaw app to make choosing the best ingredients easy.

Our suggested recipes are a great place to start as they bring you many of the most popular recipes around. Then our nutrient analyzer will help you quickly swap out any ingredient that isn't working best for one that does, so the meal never skips a gap in nutrition. Dry kibble and store-bought pet food just can't compare to the fresh foods ChefPaw can create!
Is the cooking process lengthy?

Standard cooking time is only 40 minutes. ChefPaw comes with a variety of temperature options for additional cooking times. However, while this means you can cook your dog's food in under 40 minutes, you open it to some of the issues seen with commercial foods that aggressively cook their food, placing a profit over optional nutrition. ChefPaw can create a week's worth of homemade dog food in a single session.
Do I need to clean ChefPaw?

Because you'll be cooking so many tasty meals for your dog with a variety of food items like meat, protein, and vegetables, ChefPaw will need regular cleaning. But don't expect to be putting extra work in cleaning it vs. your typical food appliance, such as a food processor.

ChefPaw can be quickly cleaned with soap and water and will come with detailed instructions on how to best care for it and even features a handy self-cleaning mode!
Does ChefPaw suggested recipes conform to AAFCO or NRC standards?

Our recipes actually go beyond AAFCO, NRC standards which are surprisingly limited in scope. AAFCO standards only provide recommended minimums for 36 nutrients and recommended maximums for 12 nutrients. AAFCO is also based per kg of food without regard for the size or activity level of the dog. The NRC standards provide recommended amounts for the same 36 nutrients as AAFCO, recommended minimums for 18 nutrients, and recommended maximums for 6 nutrients. Those NRC standards are also based on a 33lbs dog eating 1000 calories per day without regard to activity level or the needs of dogs significantly smaller or larger than 33 lbs.

Both the NRC and AAFCO ignore many nutrients that veterinarians and modern science indicate are key. For example, while many vets and scientific researchers support the conclusion that the nutrient Taurine is important for dog cardiac health, the NRC/AAFCO only recommends taurine for cats. More commonly recognized nutrients like cholesterol are also absent from official AAFCO/NRC standards.

In order to go beyond AAFCO and NRC standards, we custom-developed our patent-pending ChefPaw app which tracks 68 nutrients and then compares the nutrients in a recipe with the unique profile of your pet. Size, activity level, food allergies, food intolerances, and health conditions dramatically affect the nutritional needs of each dog. The ChefPaw dog food maker, the ChefPaw app, and ChefPaw suggested recipes are the latest game-changing developments from our team of professionals at Innovet Pet Products who have been making cutting-edge pet products since 2005. Every aspect of ChefPaw is also developed with the consultation of licensed veterinarians, veterinary nutritionists, and CVFT's.

Additionally, like humans, dogs appreciate and are better off with variety in their diet. Accordingly, the ChefPaw app analyzes the nutritional impact of not just 1 recipe, it analyzes the nutritional impact of an entire meal plan using many different recipes. This way the emphasis no longer has to be on finding artificial ways to get each recipe to hit 100% of nutritional goals, instead the emphasis can be more meaningful - finding the best combinations of recipes to naturally hit 98.8% of the nutritional goals, then nutritional supplements are only needed to cover the final 1.2%

Despite their limitations, the AAFCO and NRC are a great starting point for developing any dog food recipe, therefore ChefPaw customers wanting to create or compare any recipe to those standards can easily do so in the ChefPaw app by entering a pet profile for an adult 33 lbs dog with a high activity level. The resulting nutrient recommendations will be in line with AAFCO/NRC standards. 

The suggested ChefPaw recipes are general recipes based on commonly available ingredients from grocery stores in the USA. All pet food recipes require some nutritional supplementation in order to be considered balanced to AAFCO or NRC standards. Chefpaw's dietary supplement is included with Chefpaw's suggested recipes in order to supplement only the most common nutritional deficiencies. We can guarantee that our suggested recipes will be delicious and nutritious however we cannot guarantee they will be adequate for the specific needs of your particular pet. Custom recipes based on your pet's unique medical history can only be obtained by a licensed veterinarian.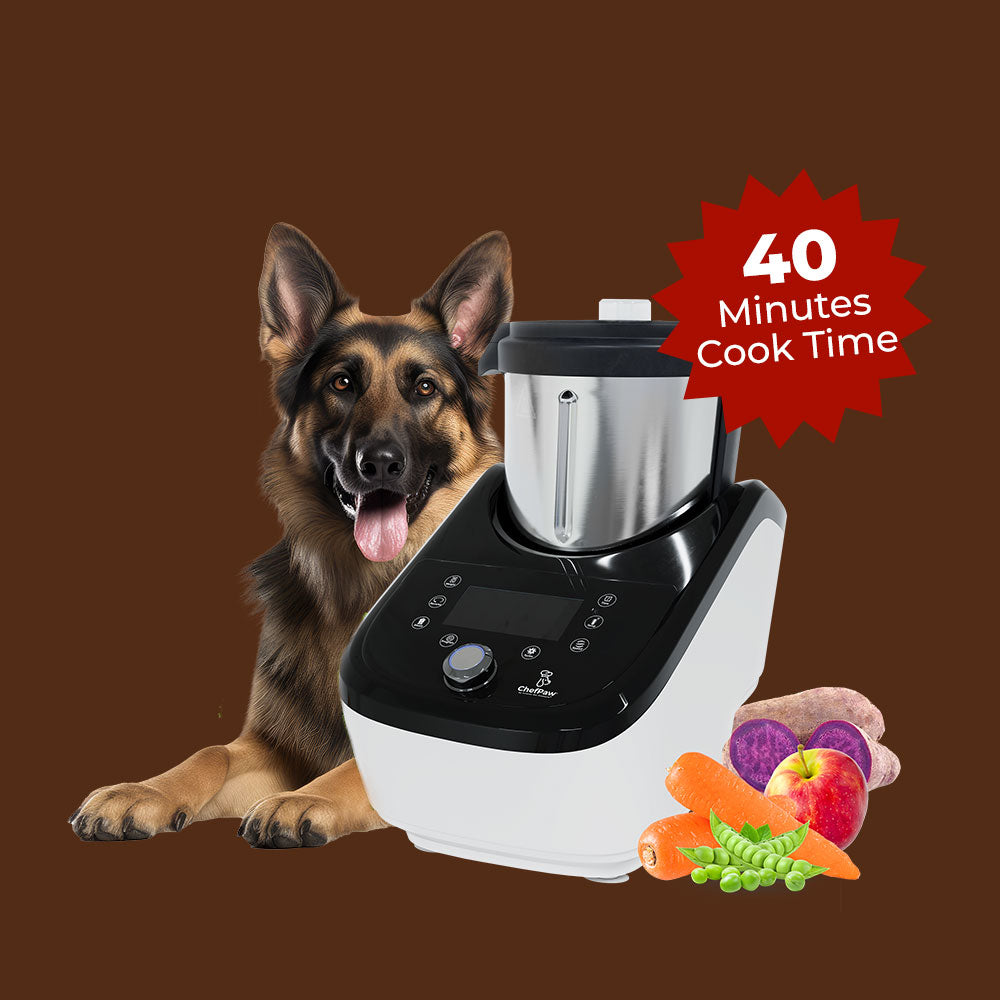 ChefPaw Dog Food Machine
Embark on a culinary journey for your beloved pet with Chefpaw, the ultimate kitchen companion designed to create scrumptious, nutritious dog food swiftly!
SHOP NOW
Total 5 star reviews: 10
Total 4 star reviews: 1
Total 3 star reviews: 0
Total 2 star reviews: 0
Total 1 star reviews: 0
100%
would recommend this product
Customer-uploaded media carousel. Press left and right arrows to navigate. Press space or enter to open more details.
Slide 1 selected
Good Homemade Dog Food

The machine itself is very user friendly and the recipes are also very good. For as much money as one is paying I'm disappointed with the functionality of the "App". #1 you have to access the app through a website not an actual application on the phone #2 the app allows you to create a meal plan but it doesn't take the ingredients from say all 4 selected recipes and sum the amount of ingredients you need to purchase. You have to go copy paste that info recipe by recipe and put it into excel. I will say I appreciate the quantity of food being provided in grams ounces and pounds. I think this is an incredible concept and I'm happy I purchased the machine but I think more energy needs to be put into the functionality of the application.

ChefPaw

11 seconds ago

Hi Julia,

Thank you for taking the time to provide your valuable feedback about the ChefPaw machine and app. We're delighted to hear that you find the machine user-friendly and the recipes to your liking.

Regarding your concerns about the app:

Access through a Website: We acknowledge that currently, the app is accessible via a web platform. This decision was made to ensure wider accessibility across various devices. However, we understand the convenience a dedicated mobile application can offer. Your feedback is crucial, and we will certainly consider developing a mobile app for a more streamlined experience.

Meal Plan Functionality: We appreciate your insight into the meal planning feature. The idea of aggregating ingredients from multiple recipes into a single shopping list is excellent, and we see how it could significantly enhance user convenience. Our development team will be informed about this, and we will look into integrating this feature in future updates.

We're glad to know that the detailed measurement information provided in grams, ounces, and pounds is helpful to you. At ChefPaw, we strive to make cooking a delightful and hassle-free experience. Your suggestions play a vital role in helping us improve.

Thank you for your support and for being a valued part of the ChefPaw community. If you have any more suggestions or need assistance, please feel free to contact us.

Warm regards,

Justin
Customer Support Team
ChefPaw

UPDATE:

We have carefully reviewed your feedback, and we are pleased to inform you that we have taken your suggestions seriously. As a result, we have now added a feature to the app that allows you to create a meal plan while automatically summing up the required ingredients from multiple selected recipes. This enhancement aims to simplify your meal planning process and save you time.

Shannon O.

Verified Buyer

GameChanger

Been using ChefPaw for about a month. Was home cooking for eight dogs and it was almost an all day affair. This has changed everything for me and made things quick, easy and healthy. Recipes are easy and inexpensive. I love the ChefPaw, definitely worth it!

ChefPaw

3 days ago

We understand that home-cooking for multiple dogs can be quite a time-consuming task, and we're delighted to hear that ChefPaw has transformed the process for you, making it quicker, easier, and healthier. Simplifying meal preparation for your pets is one of our main goals.

Robin D.

Verified Reviewer

Magic machine!

I've been cooking homeade food for my dogs on and off for the past 10 or so years using a crock pot and a rice cooker. When I saw the email with the ad for this new appliance I was very intrigued. It sounded too good to be true to be able to make a batch of food in just 40 minutes as opposed to 6-8 hours in a crock pot. I went back and forth for several days trying to decide if I wanted to give it a try. Juan in customer service was very patient in answering all the questions I had about it. I wasn't sure if I could justify spending that kind of money when my crock pot seemed to be working just fine for the job. I finally decided to take the plunge and try it. It shipped quickly and was very securely packaged. It's very solid and appears to be very well made. And the instruction manual is very clear. But, par for the course, I just decided to wing it for the first go around by using my normal crock pot recipe. It was a little "soupier" than I prefer but the pups had no issue with it! I can't fault ChefPaw because I wasn't following their recipe or instructions from the app. In the meantime I had contacted Juan again about a question I had about the app. In addition to his prompt and professional response I also heard from one of the CEOs of the company, Matt Terrill, to ask for some feedback. We exchanged a few emails and he gave me some extensive details about proper proportions of ingredients and cooking settings. He even re-worked my original recipe to make it work better…

ChefPaw

2 months ago

Hello,

Thank you so much for taking the time to share your detailed and positive experience with ChefPaw! We truly appreciate your feedback and are thrilled to hear about your journey with our appliance and services.

It's fantastic to know that Juan in our customer service department was able to assist you effectively and patiently. We believe in providing the best support to our customers, and your kind words about Juan's assistance mean a lot to us.

We're delighted to hear that you decided to give ChefPaw a try and that your initial experience, even when you deviated from our recommended recipe, was satisfactory. We understand that transitioning from a crock pot to a new appliance can be a big step, and we're glad you took that plunge.

We take pride in continuously improving our products and providing personalized support to our customers.

Your enthusiasm about the time-saving aspect of our appliance and its user-friendly features is exactly what we designed ChefPaw for. We hope you continue to enjoy experimenting with various functions and recipes from our app, and we're delighted that you've found it to be a valuable asset.

Lynn S.

Verified Reviewer

Life saver this summer!

I only feed my dogs fresh cooked food. This saved me from standing over a hot stove. So easy to use. Simply add the ingredients and start up. Doesn't heat up the kitchen. I've only made one batch so far but looking forward to trying new recipes.

ChefPaw

2 months ago

Hello,

Thank you for sharing your wonderful experience with ChefPaw! We're thrilled to hear that our appliance has been a lifesaver for you, especially during the summer when you'd rather avoid standing over a hot stove.

We understand the importance of feeding your dogs fresh cooked food, and ChefPaw is designed to make that process as convenient as possible. It's great to know that you found it easy to use and that it doesn't heat up your kitchen, which is a significant benefit during warmer months.

We hope you have a fantastic time exploring new recipes with ChefPaw. Our app offers a wide range of options to keep things exciting for both you and your furry companions.

If you ever need assistance or have questions about recipes, ingredients, or anything else, please don't hesitate to reach out. We're here to support you on your journey to providing the best for your dogs.

Kris T.

Verified Reviewer

I admit I'm biased but ChefPaw is seriously awesome!!!

I learned (with my first Labrador) that cooking fresh food as opposed to serving kibble would help control her weight…and it really worked. Three labradors later, I'm still cooking! But the prep for making a balanced meal has been time consuming and messy. Enter Chef Paw! No longer do I have to have a separate pot for rice or pasta, vegetables and meat…they can all be added at once. The end product has a good texture (I can remember stirring chucks of ground turkey to refine it) because the Chef Paw also grinds the food. Full disclosure- I've been complaining to Matt Terrill, my son, for years, asking him to please make the process cleaner and easier…..and he listened to his Mom!!!!!"

ChefPaw

2 months ago

Thanks mom, I wish I would have listened to you about the benefits of homemade dog food earlier!
Reviews Loaded
Reviews Added