Regular price
$499.00 USD
Regular price
Sale price
$499.00 USD
Unit price
per
Sale
Sold out
*Refurbished ChefPaw units are in like new condition and come from sources such as display units, open box returns, and units used during 1 event such as tradeshows, video filming, or promotional events.

**Same 2-year warranty terms and all the same accessories and access to the ChefPaw app. While refurbished units are offered at a discounted price, we promise that they will be like new and in either an unused or slightly used condition.

***Refurbished units are in limited supply and not eligible for promotional discounts
What Is ChefPaw?
Say hello to ChefPaw, the countertop dog food maker that REVOLUTIONIZES how we feed our dogs. ChefPaw saves you time and money, creating unlimited fresh and tasty homemade food for your dog. Actual real food PERSONALIZED to their dietary needs and ChefPaw does it at a fraction of the cost of storebought fresh pet food. And it only takes 3 easy steps!

Just add fresh ingredients, turn ChefPaw on, and relax, you're already done! In 40 minutes, you'll have fresh dog food that's been gently mixed and cooked at lower temperatures for perfection. ChefPaw is for pet parents that want to give their dogs fresh food that tastes great while amplifying their health.
Meals rich with wholesome ingredients that retain all the nutrients only a fresh diet can offer.
Just food that's free from common fillers like gums or preservatives.
Fresh dog food that reduces the cost of feeding and caring for our best furbuddies.
That's the ChefPaw's Promise!
Share
View full details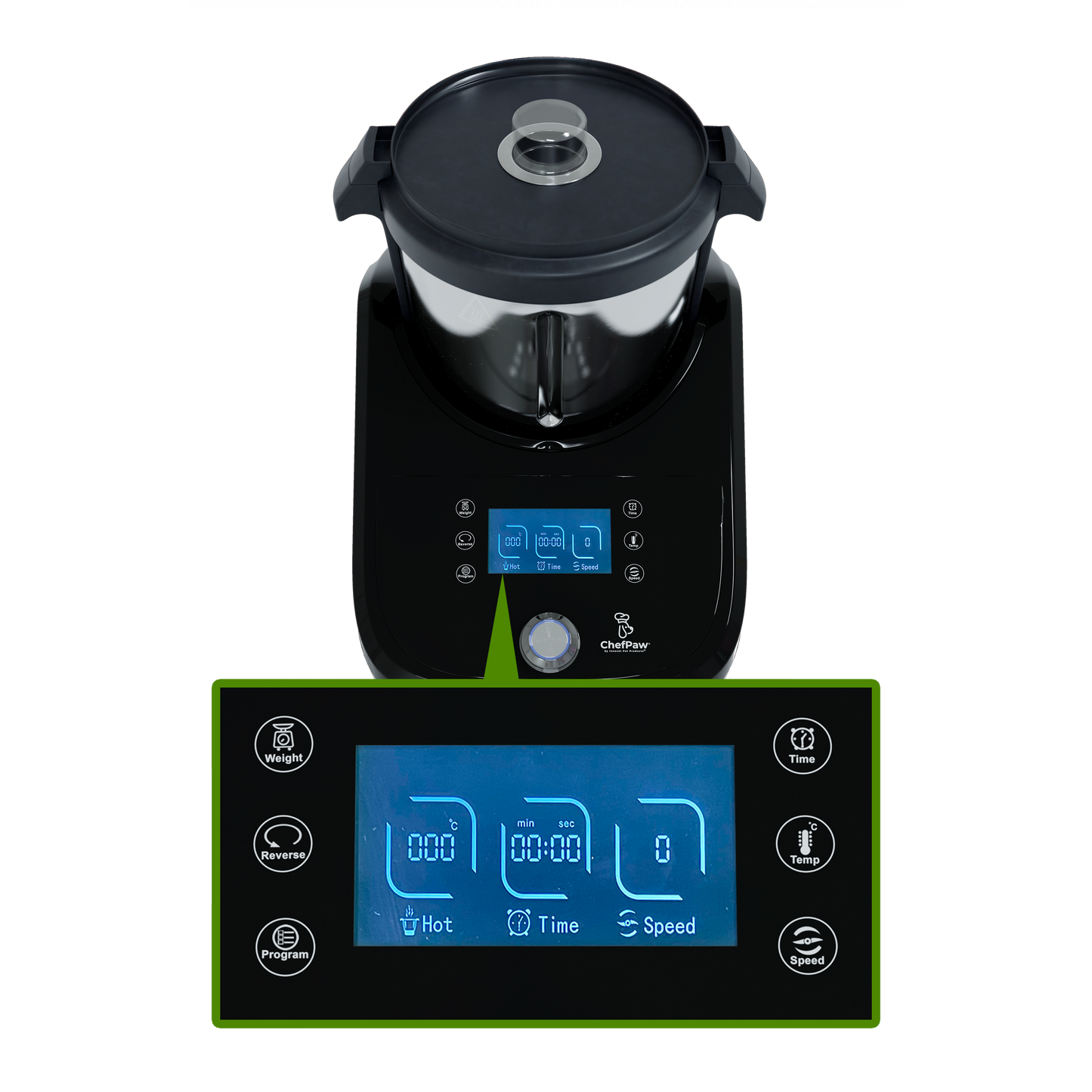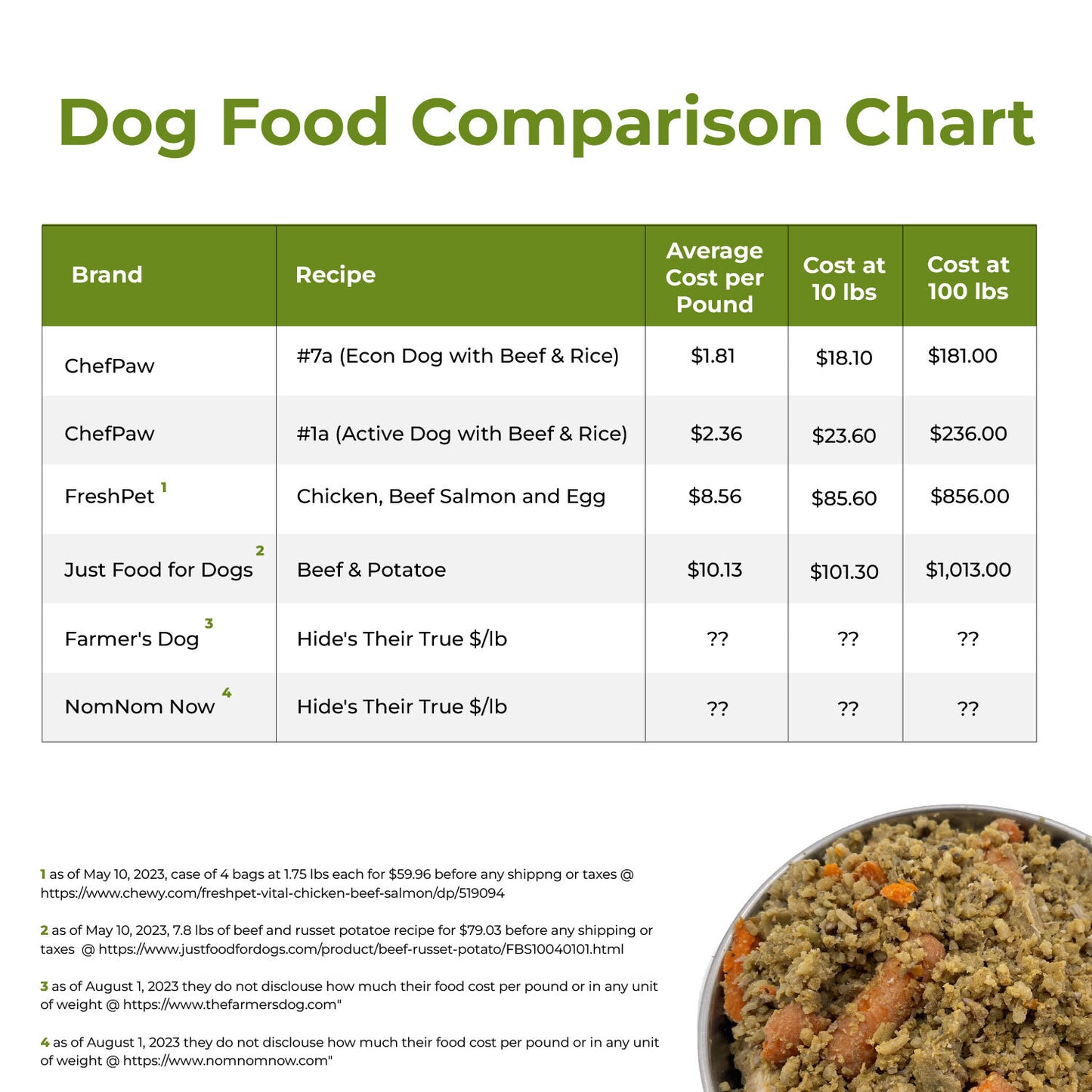 Save Money
ChefPaw is designed to pay for itself! From giving your dog an optimal diet that supports a longer and healthier life to ChefPaw's nutrition analyzer that quickly compares ingredients, allowing you to swap out expensive ingredients for more affordable ones without jeopardizing nutrition.Say goodbye to commercial dog foods that are soaring in price. Goodbye to brands that do little to improve the quality of their food but are sure aggressive about finding places to cut corners. Stop paying for packaging, labeling, and product advertisement. With ChefPaw, your hard-earned money is only going towards giving your dog the best food possible. Create fresh food for as low as $1.81 per pound vs. $4-15 per pound store bought fresh pet food.

Save Time
Requiring only 9x12" of your kitchen counter space when in use, the ChefPaw's model CP3A is a self-contained single unit that eliminates hours of prepping and cleanup of pots, pans which leaves your kitchen a cluttered mess. Just add whole ingredients, turn ChefPaw on, and ChefPaw will do the rest of the work for you. Go enjoy your favorite TV show or have a nice REFRESHING bath. ChefPaw isn't just here to help your dog!

Maximize Nutrition and Flavor
Designed to maximize nutrition and flavor, ChefPaw makes commercial dog food a thing of the past. Commercial dog food that often fails to provide a complete well-balanced meal due to aggressive cooking temperatures.The exclusive ChefPaw app has nutritional values for 1000+ ingredients with the ability to analyze calories, protein, carbs, fiber, 5 types of fats, 20 amino acids + 32 vitamins and minerals.